Have you ever had a sensitive file or a file with information that you did not want anyone to get ahold of? Naturally, it is scary to have a file like this on your computer. What if there was something you. Password protecting your PDF files is a great way to make sure that if someone ever were to get ahold of your files they wouldn't actually be able to read the contents. PDF Encrypt is a program that you need to password protect your PDF files so you can stop worrying about whether or not someone can get to your sensitive files and read them. Unless you give someone the password to your PDF files, they are never going to be able to get into them thanks to this program.
Chances are pretty good that you have come into contact with a PDF file that was password protected. While they are frustrating at times, being able to password protect your files is very beneficial for security purposes. Have you ever stopped and asked yourself, how do they do that? Chances are pretty good that they've used a program similar to PDF Encrypt. PDF Encrypt is a program that will protect a PDF file by letting the users encrypt it with a password. There is no reason to spend tons of money on a expensive program like Acrobat that will lock a PDF file for you, when you can get this password protection program at much less price. Not to mention the fact that trial version of this program can be downloaded absolutely free. See How it Works!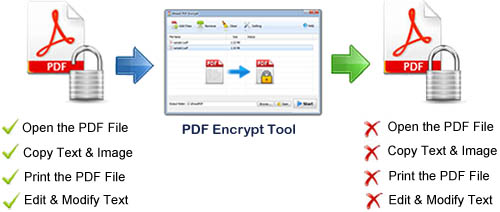 PDF Encrypt Tool - Lock PDF Files with User and Owner Password with Ease
PDF Encrypt is a program that is quick and easy to use. It allows the user to protect their PDF files with user/open and owner password protection. A PDF user password also known as open password is the password used to restrict the opening of a PDF file. On the other hand, owner password is used to set restrictions on editing, copying, commenting, and printing. If you are looking to maximize the security on your PDF files, this is the only program you are ever going to need.
No one should have PDF files on their computer that they are constantly worried about whether or not someone is going to read them. Thanks to this program, you just do not have to anymore. When it comes to the safety of your information on your computer, you can never be too careful. Encrypt PDF is just one more program that a person needs to have for complete protection. You can download the trial version of the program absolutely free:

Key Features of the PDF Encrypt Tool
Here are some of the key features that really make this program a must have for everyone:
Easy-to-use program with a user-friendly interface.
Supports user passwords and owner passwords.
Does not require Adobe Reader or Adobe Acrobat.
Supports 128-bit RC4, 40-bit RC4, and 128-bit AES encryption.
Supports batch encryption.
Supports setting descriptions, document title, subject, author, keywords to a PDF file.
Compatible with Windows XP/Vista/7/8 both 32 and 64-bit.
There really isn't anything negative about this program or a reason why you shouldn't acquire it. It is the jack of all trades when it comes to handling PDF files. You do not have to worry about having Adobe Reader or Adobe Acrobat. You also do not have to worry about how much time it is going to take to use this program if you have a large volume of PDF files that you. This is because you can lock as many PDF files as you want at one time. In general, the program is not time-consuming or frustrating. It just takes a few minutes out of your day and you will have PDF files that are secure and password protected.